Pilots
Kevin Roethe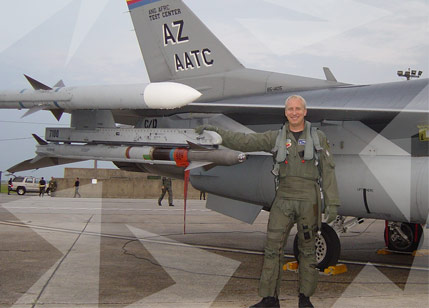 Kevin Roethe has been an F-16 fighter pilot for twelve years, the last four as an experimental test pilot. He now acts as both a part-time reserve F-16 instructor test pilot and academic instructor at the US Air Force Test Pilot School and as a full-time contract test pilot for part 23 certification of a twin turbine corporate aircraft. In this role, he flies performance, stability and control, stall, ice shapes, system development for the twin turbine, as well as writes test plans and manages the company's safety program. Kevin currently holds all the prerequisites for FAA DER designation.
Kevin graduated from the US Air Force Test Pilot School and the Advanced Instrument School. Flying as an operational and developmental test pilot, he has accumulated 4,000 hours in over 100 different airplanes, mostly high performance jets. Kevin has served in theaters around the world, including combat sorties over Iraq.
As a civilian ATP pilot, he has also served as a CFI, CFII and MEI in gliders, multi-engine, single engine land and sea planes. Kevin earned a BS and MS in Electrical Engineering, and is currently pursuing his MBA.
Qualifications
Current Experimental Test Pilot
Current academic and F16 instructor pilot at US Air Force Test Pilot School
ATP / CFI / CFII / MEI – MEL, SEL, SES, Glider
4,000 hours in over 100 airplanes
Graduate US Air Force Test Pilot School
Graduate Advanced Instrument School
BS and MS in Electrical Engineering
DER candidate
Background
Experimental Test Pilot for part 23 and part 25 aircraft certification
Academic and F16 instructor pilot at USAF Test Pilot School
Operational Test Pilot for Guard and Reserve F16s
Developmental Test Pilot for USAF F16s
Chase pilot for F/A-22, B-2, ABL
F16 Instructor Pilot
F16 Fighter Pilot
Resume/Contact